Your crypto

destination
Genesis Markets is a crypto broker that offers altcoin trading on the Genesis Vision Trading Terminal. It also lets you access multiple crypto exchanges within a single Genesis Markets account (as opposed to 15 logins for the varying different exchanges needed).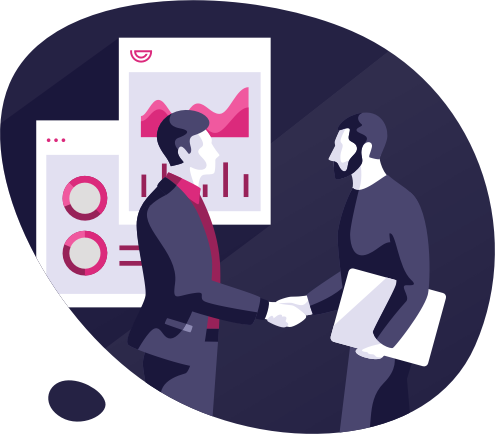 Genesis Markets is a part of the Genesis Vision ecosystem and the Genesis Vision ERC20 Token (GVT) has use cases for both of the projects.
MetaTrader 5 is the most renowned trading terminal in the world, developed for Forex and Stock markets. Genesis Markets bridges these two very distinct worlds by bringing over 10 years of accumulated conventional trading experience directly into crypto.
Enjoy trading the way it was supposed to be.
Eight order types allow for the most precise crypto trading experience
A professional trading terminal, chosen by millions of traders
Available on all devices, including web, PC and mobile
A market of user-created trading indicators and tools, along with a surplus of pre-installed instruments
Support of Expert Advisors better known as trading robots
Easy and fast account opening
Fees and Discounts
Make sure that you familiarize yourself with all the costs and associated charges.
Genesis Markets offers a competitive tiered fee structure: the regular trading fee is 0.3%, however the fee is discounted, depending on how much GVT you hold. Exact discount levels can be found in the chart below:
| Amount | Discount | Fees |
| --- | --- | --- |
| From 1 GVT up to 10 | 30% | 0.210% |
| Up to 25 | 35% | 0.195% |
| Up to 50 GVT | 40% | 0.180% |
| Up to 100 GVT | 45% | 0.165% |
| Up to 500 GVT | 50% | 0.150% |
| 500 GVT+ | 55% | 0.135% |
Become a Partner Through Our Broker Referral Program
At Genesis Markets we welcome crypto traders of all shapes and sizes. If you know someone, who would enjoy the crypto experience on the MetaTrader terminal, make sure to invite them and receive the referral commissions therein.
Only three easy steps to join
Register a new account or log in to your Genesis Markets referral dashboard.

Share your referral link on social media or send directly to your friends.

Earn rebate from all executed trades made by your referrals.
Examples
Your referrals had a total trading volume of $2.5M within a calendar month. In such case, your rebate will be 0,03% of $1M, which is $300 and 0,04% for the additional volume of $1.5M, which is $600. The total rebate at the end of the month is $900.
Executed volume of your referrals is $17M within a calendar month, in that case your rebate consists of 0,03% for the volume of $1M ($300), 0,04% for the second volume tier of $2M ($800) and $0.05 for the additional volume of $14M ($7000). The total rebate at the end of the month is $8100.
0.03%

for any volume
below $1M

0.04%

for any volume between $1M and $3M

0.05%

for any volume
above $3M
Account types
Genesis Markets has three different account types designed to create different trading environments that will look to suit different trader archetypes.
Base

This type of account has the regular default execution type. This type of execution is modelled as closely as possible to common trading on an exchange. The orders work and execute just as they are supposed to, and the same usual restrictions are in place.

No limit

The main difference of this type of account is that when setting Limit Order, it is not directly put on the exchange, but follows the TakeProfit logic, where the order is pending and is activated only once the necessary price is reached.

The main benefit of such an approach of working with pending orders is that we do not need to block the margin or the order in advance; so that the client can set Limit / Stop orders or TP / SL in unlimited quantities.

Hedge

This type of account works on the basis of the Base type of account, however each new order does not change the single total position on the account, but creates a new position in MT5, very similar to MT4 Logic.

This allows you to configure personal SL / TP levels for each individual order, you can also simultaneously see the entry prices for all of the times you open or change a specific position.

Such an account type is very convenient when working with expert advisors, better known as trading robots.